S&A was recently commissioned to conduct a structural analysis of a collapsed residential CMU basement wall, in the interest of determining the primary cause of collapse. The back story is irrelevent with regards to the structural forensic aspect of this case, but the launch of the investigation into who was at fault has enough lessons within it to merit a blog post all its own. You may even find that article here at a later date.
The subject property for our investigation cosisted of an approximately 24 x 60 ranch-style single story wood framed residence over a basement. The cmu basement collapse occurred at the rear of the residence near the midpoint along the length of the long wall. The basement wall had suffered complete collapse for a length extending approximately 17′-0″ in length, while the upper level floor framing remained, with the shape of the wood framed "box" above nearly perfectly in tact. (Upon completion of the final report, we made the determination that the wood framed structure had suffered less than $100.00 in consmetic damage to the interior finishes, and confined to only one area.)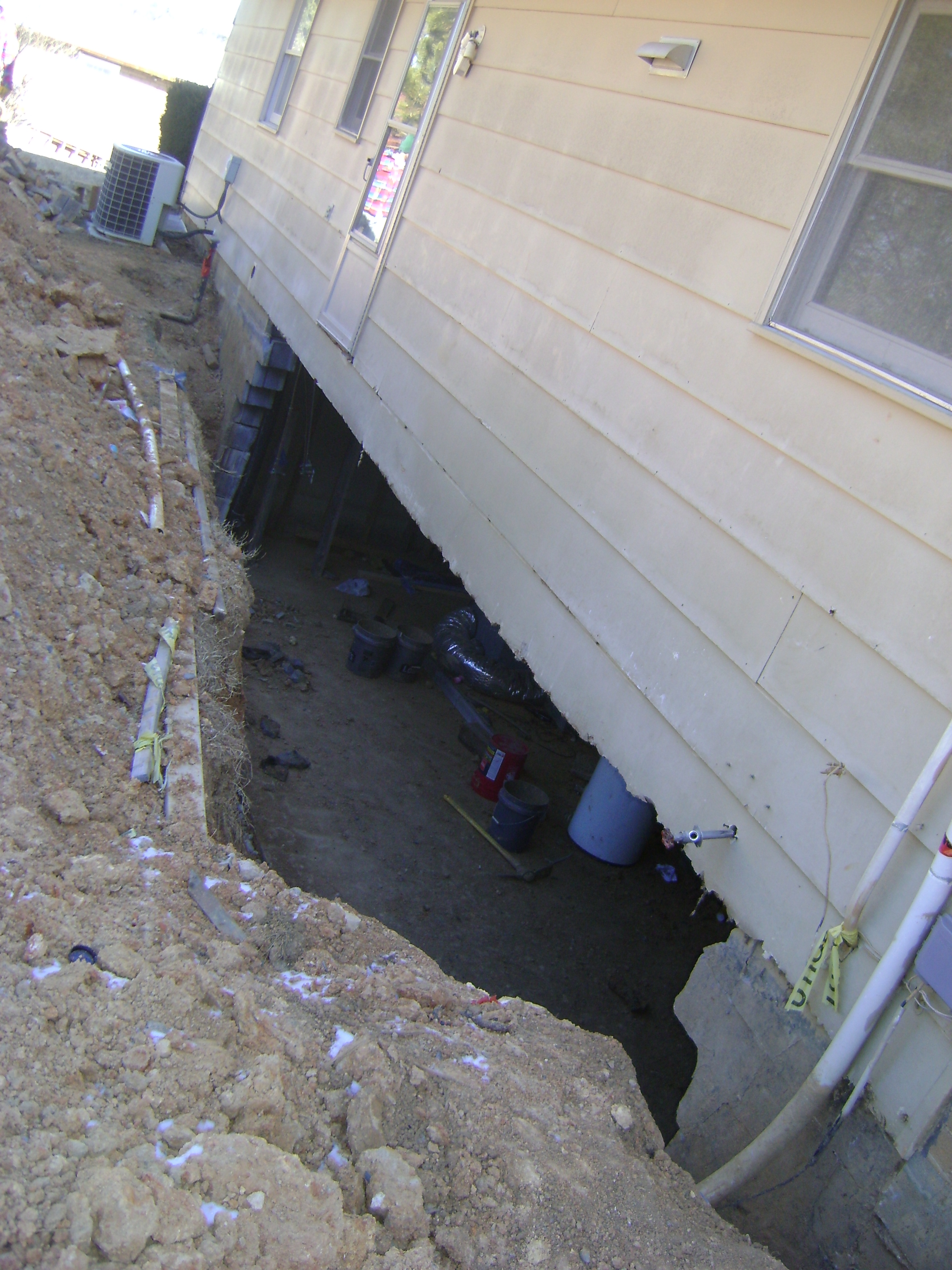 During our site visit, we observed the following:
The backwall drain was either absent or installed at improper elevation.
Gravel was not present near the rear of the wall.
Clay soil was in place immediately adjacent to the exterior wall face below grade.
The connection of the floor joists to the top plate was either inadequate or absent.
Lateral translation of the base of the wall.
Absent wall reinforcement and grout.
Upon structural analysis of the observed collapsed wall, Schnitzhofer & Associates, LLC made the determination that the wall suffered collapse as a result of severe lateral displacement as a result of (or a combination therof) the following conditions:
Excessive back wall hydrostatic pressure.
Excessive back wall soil pressure.
Repeated frost heave resulting in severe bowing and cracking of the subject wall.
Inadequate reinforcement.
Inadequate shear reinforcement at wall base
Inadequate mechanical connector resistance (bracing) at the top of the wall.