James R. Schnitzhofer, P.E., President
Professional Licensure: VA, WV, PA, MD, FL
Jim delivers an energetic and well thought out approach to each of his design projects. The professional presentation of each of his designs, combined with his extensive background in heavy and light commercial structural design, using state-of-the-art structural software, has proven successful in satisfying clientele.
While working in Virginia, Jim has provided commercial and residential design services in Charlottesville, Staunton, Richmond, Williamsburg, Augusta County, Lexington, Roanoke, Salem and Chesterfield County. Mr. Schnitzhofer is the past Education Committee Chair for the Historic Staunton Foundation Board of Directors and the current Treasurer for the American Society of Civil Engineers in Charlottesville.
While playing in Charlottesville, Jim enjoys working on his house, philosophizing about the "Why" of almost anything and everything, and hanging out in the back yard with his 16 year old Golden Retriever, Jax.
View his LinkedIn profile here.
Board of Directors – Education Committee Chair (Past): Historic Staunton Foundation
Member: Associated General Contractors of Virginia (AGCVA)
Member: American Concrete Institute (ACI)
Member: Structural Engineering Institute (SEI)
Member: American Society of Civil Engineers (National)
Treasurer: American Society of Civil Engineers (7 years Blue Ridge Branch)
Member: American Institute of Steel Construction
Member: Association of Preservation Technology International
Member, Past Guest Speaker Chair: Association of Young Professionals of Augusta County
Member, Past Board Member: City of Staunton Board of Building Code Appeals
Outside DSD Supporter: Staunton Downtown Development Association
NCEES Member and Record Holder
---
Debbie Goodbar
Office Manager
Debbie is a welcomed addition to Schnitzhofer and Associations. Her experience in managing complex office environments and multi-faceted responsibilities is a perfect pairing for our firm.
With more than a decade of providing patient centric services as a dental assistant, she maintains a high level of focus to customer service, organization and a friendly, outgoing personality.
Originally from Ohio, Debbie, along with her husband Darren and daughter Lilia have called the Charlottesville area home since 2005. Up until recently she had been directly involved in ensuring that the "little things" were accomplished for a leading dental office on top of her normal, chair side assisting role.
As a fan of craft beer, Debbie has been instrumental in establishing Albemarle County's first farm brewery, continuing in an office management position, providing payroll, accounting, regulatory compliance, and leading to the overall success of a Crozet favorite.
Although you may see her making sure the band is set, bartending, or ordering malt, a new chapter as Office Manager for Schnitzhofer and Associates at their Charlottesville office begins. She looks forward to being a part of our professional engineering firm and engaging with you throughout your projects.
---
Nathan McConaughy, P.E.
Professional Licensure: VA, MD, & DE
From an early age, it was evident that Nate is a logic driven problem solver. Playing with Lincoln Logs and Legos gave way to may years of schooling and he eventually walked across the stage to receive a Master's Degree in Civil Engineering from Johns Hopkins University.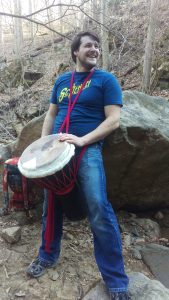 Recently relocated to the Staunton area from Baltimore, Maryland, Nate is excited to apply many years of bridge design and inspection experience to the arena of structural building design. A thirst for knowledge and a drive for excellence make him a good fit at Schnitzhofer and Associates and an asset to the clients that we serve.
Outside of the office, Nate loves to spend time outdoors, drumming, woodworking, swimming, or simply relaxing with his family.
---
Edler Saint-Jean, Associate
Growing up watching MTV Cribs and House Hunters, it was easy for Edler to be attracted to structures. That interest and amazement paved the way for the academic excellence and achievement that he would see to this date and in the future. Currently a 2nd year pursuing a bachelor's degree in Civil Engineering at the University of Virginia, he intends to that not only is he a smart kid, but that he is also motivated and willing to put in the work towards becoming an engineer.
Outside of the office, Edler loves to spend time playing video games, basketball, watching movies, or simply relaxing and listening to music.